How to Combat Dry Winter Skin
Date: 1.29.17 | by Dina V. | Cibo Pelle Skin Care
​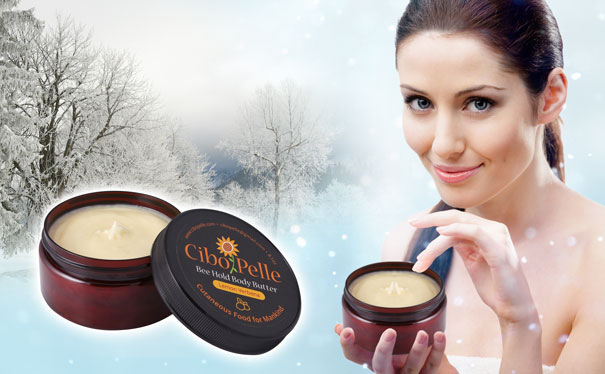 There are so many great things to love about winter: beautiful snow-filled landscapes, cozy fires, hot chocolate and family festivities. Unfortunately, dry skin can become a part of winter too so don't let this preventative problem lessen your winter happiness.
Dry skin can affect you year round but it seems to be worse and more uncomfortable in the winter months. Most of us will use deeply penetrating moisturizers once our skin becomes too dry but there are other ways to avoid the discomfort of dry, cracked skin before it becomes problematic.
Combat the drop in humidity levels by using all- natural, emollient-rich moisturizing body products.
Humidity levels are representative of the amount of water in the air. When the humidity levels are high during the summer months it provides moisture and hydration to our skin but when the humidity levels begin to drop during the fall and winter months, it causes our skin to become dry. The colder the temperature becomes, the less water content in the air and the drier our skin becomes. Regular use of the correct type of body moisturizers can help to prevent the occurrence of dry, cracked skin.
Use a humidifier while indoors to replace moisture in the air.
The use of and exposure to indoor heating from our homes, cars and place of employment is very drying and causes the surrounding air to lose moisture. Since our skin loses more moisture and hydration when the air is dry, using a humidifier while indoors will help add moisture to the air and prevent dryness of the skin.
Avoid long, hot showers.
Although a long, hot shower feels good in the winter it can have a detrimental effect on our skin. When skin is exposed to very hot water for an extended period of time, it becomes stripped of its natural oils. When these necessary oils are removed from the skin, its integrity becomes compromised leaving it dry and thin. To avoid this, take lukewarm showers, use all -natural gentle cleansers and moisturizers, and be sure to moisturize your skin within five minutes of getting out of the shower.
Protect your skin from the elements.
Avoid exposing your skin to excessive cold, wind or rain whenever possible. Some contact with outside elements is necessary to build up a thickened, protective skin surface but prolonged exposure can cause skin breakdown. Wearing protective clothing when you are going to be outside for an extended period of time will help to prevent this problem.
Using these four basic steps can help prevent the occurrence of dry, cracked, painful winter skin.
Enjoy your winter season and remember to love your skin and feed it well!
​